Pre-Arm Safety Checks¶
ArduPilot includes a suite of Pre-arm Safety Checks which will prevent the vehicle from arming its propulsion system if any of a fairly large number of issues are discovered before movement including missed calibration, configuration or bad sensor data. These checks help prevent crashes or fly-aways but some can also be disabled if necessary.
Warning
Never disable the arming checks (ie ARMING_CHECK not = "1", except for bench testing. Always resolve any prearm or arming failures BEFORE attempting to fly. Doing otherwise may result in the loss of the vehicle.
Recognising which Pre-Arm Check has failed using the GCS¶
The pilot will notice a pre-arm check failure because he/she will be unable to arm the vehicle and the notification LED, if available, will be flashing yellow. To determine exactly which check has failed:
Connect the Autopilot to the ground station using a USB cable or Telemetry.

Ensure the GCS is connected to the vehicle (i.e. on Mission Planner and push the "Connect" button on the upper right).

Turn on your radio transmitter and attempt to arm the vehicle (regular procedure is using throttle down, yaw right or via an RCx_OPTION switch)

The first cause of the Pre-Arm Check failure will be displayed in red on the HUD window
Pre-arm checks that are failing will also be sent as messages to the GCS while disarmed, about every 30 seconds. If you wish to disable this and have them sent only when an attempt arm fails, then set the ARMING_OPTIONS bit 1 (value 1).
Most are obvious as to the issue, but some can have multiple sources and the message cant identify them all in its limited length. The most common of those are:
AHRS: waiting for home : autopilot has not gotten a home location, usually because the GPS is detached or has not gotten a fix yet with enough precision. Common experience while indoors.
EKF3 Roll/Pitch inconsistent by X degs : The autopilot is not using EKF3 because its roll or pitch disagrees with the current ARHS system being used (usually DCM). Normally due to EKF3 not getting good enough GPS accuracy (are you indoors??), but could be due to other sensors producing errors. Wait or go outdoors.
EKF3 Yaw inconsistent by x degs: The autopilot is not using EKF3 because its yaw disagrees with the current ARHS system being used (usually DCM). Normally a compass issue caused by metal objects nearby.
AHRS: not using configured AHRS type: Normally, if EKF3 is being used, it has not started or has fallen back to DCM because its not healthy yet. Can also be caused by misconfiguring which EKF is enabled versus being used by AHRS_EKF_TYPE.
EKF3 waiting for GPS config data: A DroneCAN GPS has been configured but is disconnected or not setup.
Disabling the Pre-arm Safety Check¶
Warning
Disabling pre-arm safety checks is not recommended. The cause of the pre-arm failure should be corrected before operation of the vehicle if at all possible. If you are confident that the pre-arm check failure is not a real problem, it is possible to disable a failing check.
Arming checks can be individually disabled by setting the ARMING_CHECK parameter to something other than 1. Setting to 0 completely removes all pre-arm checks. For example, setting to 4 only checks that the GPS has lock.
This can also be configured using Mission Planner: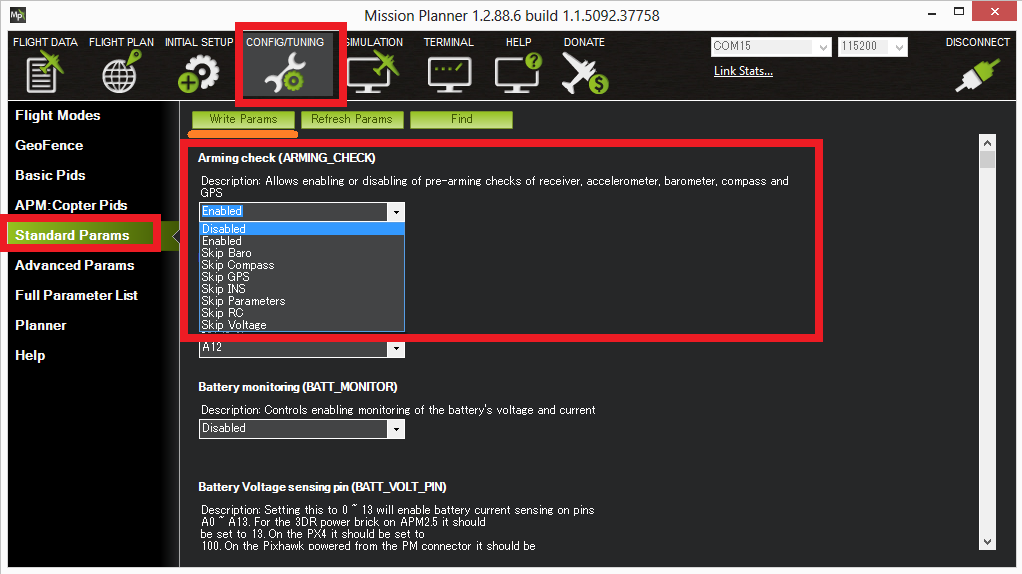 Connecting your Autopilot to the Mission Planner

Go to Mission Planner's Config/Tuning >> Standard Params screen

set the Arming Check drop-down to "Disabled" or one of the "Skip" options which more effectively skips the item causing the failure.

Push the "Write Params" button