Tuning Turn Rate¶
This page describes how a Rover's Turn Rate controller (aka steering rate controller) can be tuned. This is the most important controller to tune in order to achieve good steering control.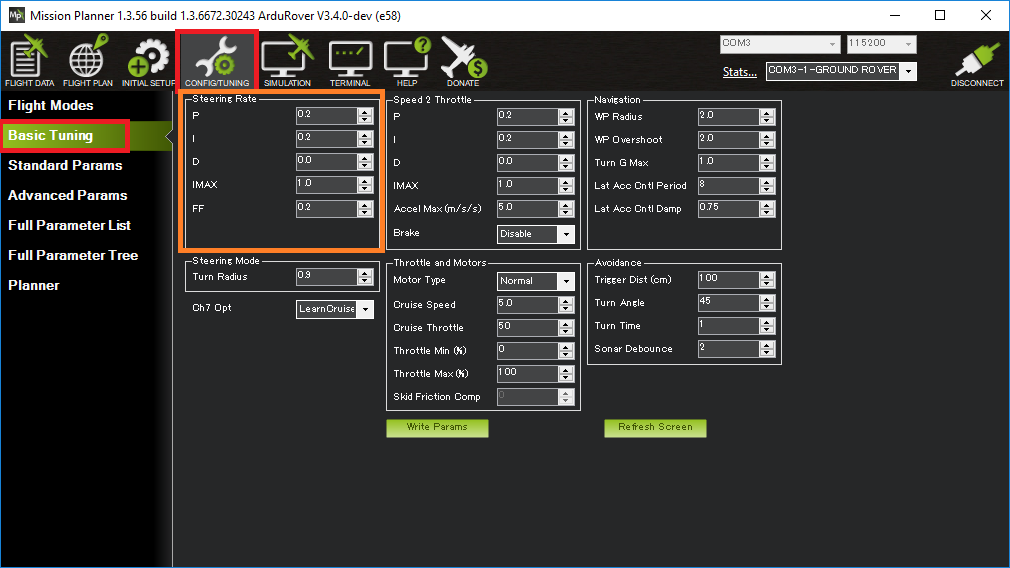 Turn Rate PID Tuning¶
The Turn Rate controller attempts to achieve the desired turn rate (set by the pilot or autopilot) using a PID controller. All modes except Hold and Manual use this controller.
The FF, P, I and D gains for this controller are held in the ATC_STR_RAT_FF, ATC_STR_RAT_P, ATC_STR_RAT_I and ATC_STR_RAT_D parameters respectively.
Recommended steps for tuning this controller are:
Finally set ATC_STR_RAT_MAX to the ACRO_TURN_RATE value and optionally reduce ACRO_TURN_RATE. The difference between these two parameters is:
ACRO_TURN_RATE controls how the pilot's input is converted to a desired turn rate in Acro mode. This parameter can be reduced to make turns in Acro mode more docile for the driver

ATC_STR_RAT_MAX is the maximum turn rate that the vehicle will ever attempt in any mode. This should normally be kept close to the vehicle's performance limits so the vehicle remains agile