ArduPilot
ArduPilot enables the creation and use of trusted, autonomous, unmanned vehicle systems for the peaceful benefit of all. ArduPilot provides a comprehensive suite of tools suitable for almost any vehicle and application. As an open source project, it is constantly evolving based on rapid feedback from a large community of users. The Development Team works with the community and commercial partners to add functionality to ArduPilot that benefits everyone. Although ArduPilot does not manufacture any hardware, ArduPilot firmware works on a wide variety of different hardware to control unmanned vehicles of all types. Coupled with ground control software, unmanned vehicles running ArduPilot can have advanced functionality including real-time communication with operators. ArduPilot has a huge online community dedicated to helping users with questions, problems, and solutions
Copter -- Plane -- Rover -- Sub -- Antenna Tracker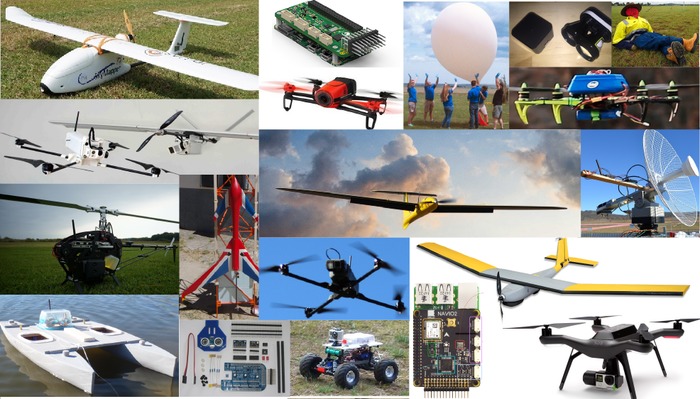 Hardware is the peripheral sensors, controller, and output devices that act as the vehicle's eyes, ears, brain and arms.

Almost any mobile machine can be transformed into an autonomous vehicle, by simply integrating a small hardware package into it. Hardware packages begin with a controller.

Using inputs from sensors, the controller is able to send outputs to devices such as ESC's, servos, gimbals and other peripherals.

Firmware- is the code running on the controller. You choose the firmware to match your vehicle and mission: Copter, Plane, Rover, Sub, or Antenna Tracker.

The choice is yours – one autopilot for any mission.

Software is your interface to the controller. Also called a Ground Control Station (GCS), the software can run on PC's or mobile devices.

A GCS allows users to set-up, configure, test, and tune the vehicle. Advanced packages allow autonomous mission planning, operation, and post-mission analysis.

Mission Planner is a full-featured GCS supported by ArduPilot. It offers point-and-click interaction with your hardware, custom scripting, and simulation.
---