ARCHIVED: Analog Sonar (AC3.1)¶
Copter supports the MaxSonar line of sonar sensors for "Terrain Following" while in Loiter or Alt Hold modes. In these modes, the copter will attempt to maintain a constant distance from the ground. The sonar is also used during LAND mode. The copter will slow its descent to 50cm/s (configurable with LAND_SPEED parameter) when the sonar detects something below the vehicle.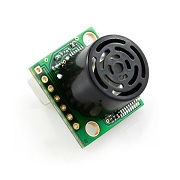 Warning
RNGFND_MAX_CM must be set to a tested, appropriate value. If RNGFND_MAX_CM is set to a value greater than the range of the sensor, the autopilot will not respond correctly to the data provided.