Note
Refer to this page if you're using version 4.1.
Soaring¶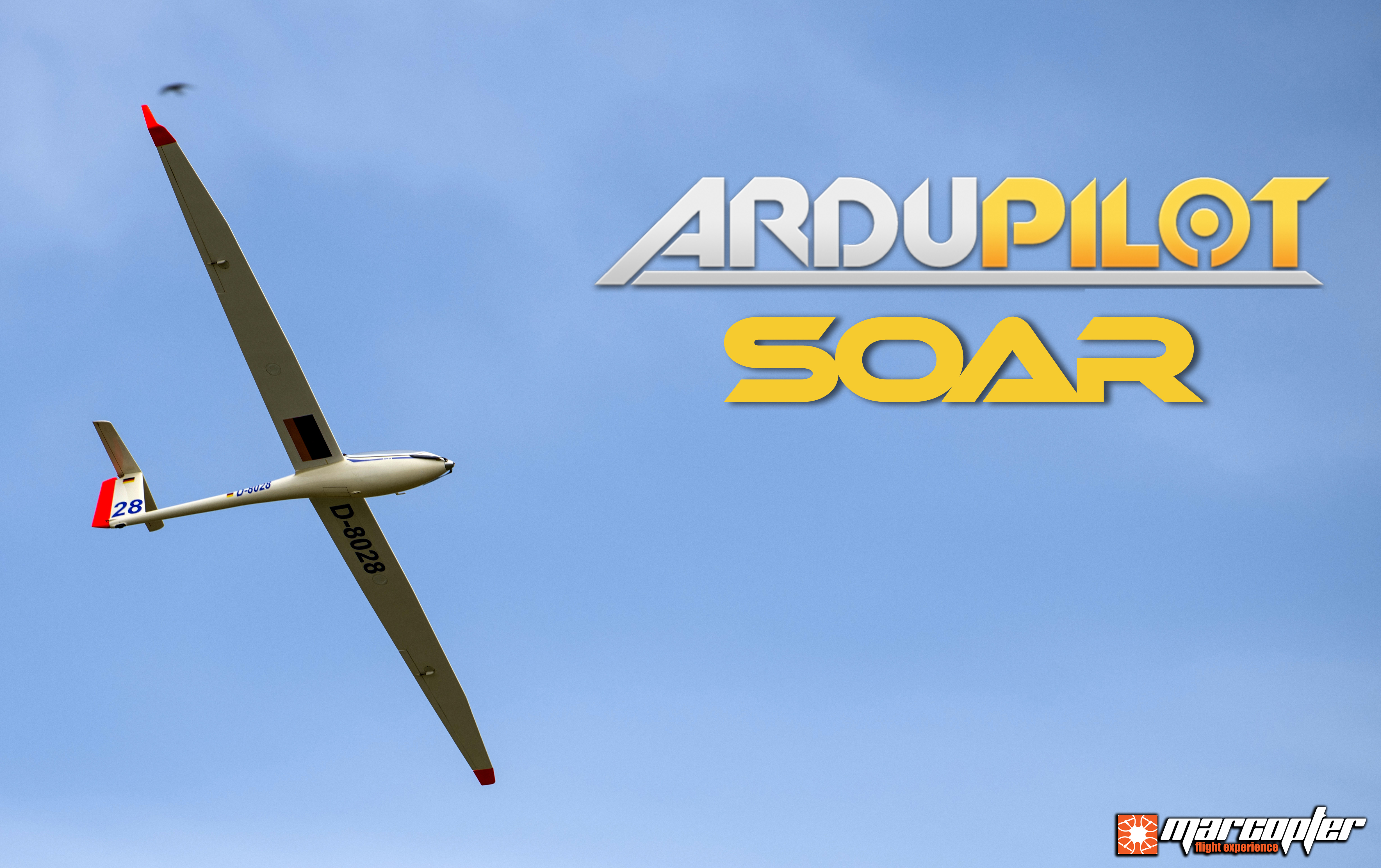 The autonomous soaring functionality in ArduPilot allows the plane to respond to rising air current (thermals) in order to extend endurance and gain altitude with minimal use of the motor (soaring). Its full technical description is available in
S. Tabor, I. Guilliard, A. Kolobov. ArduSoar: an Open-Source Thermalling Controller for Resource-Constrained Autopilots. International Conference on Intelligent Robots and Systems (IROS), 2018.
Note
Use of an airspeed sensor is strongly recommended in order to obtain optimum performance. Use without a sensor could yield unsatisfactory results. Consistent operation without an airspeed sensor is a pending future development.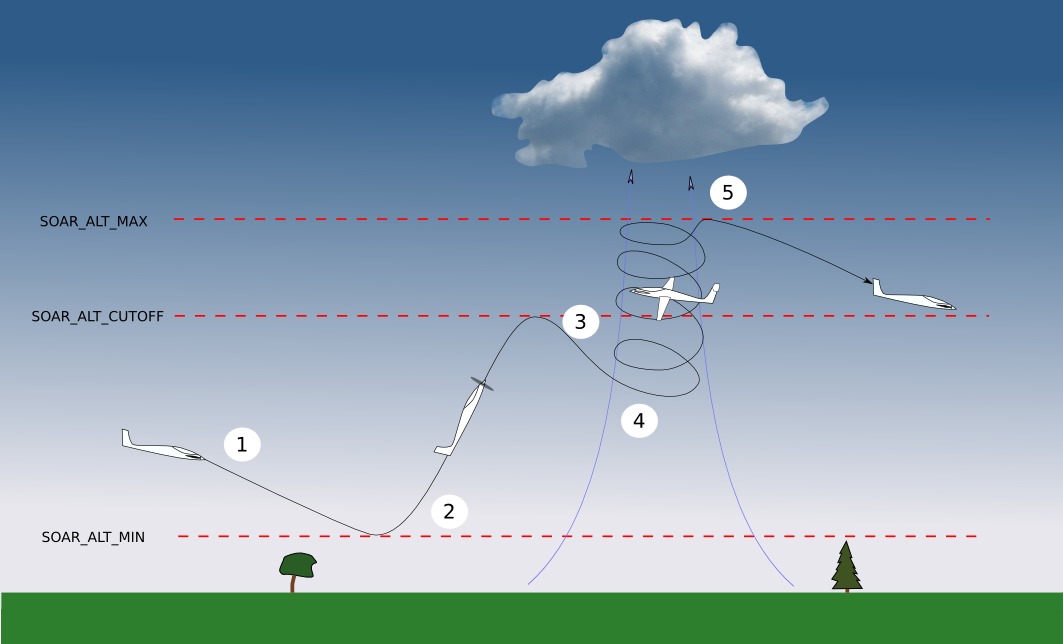 This picture shows the different phases of flight when using the soaring functionality:
Hardware¶
To use your plane for soaring, it should ideally be a glider type aircraft with a good lift to drag ratio and be equipped with an airspeed sensor.
Generally all boards support soaring, except those with firmware limitations referred to on this page. As of June 2020, non-supported boards include:
KakuteF7Mini

KakuteF7

sparky2

Pixhawk1-1M

OMNIBUSF7V2
Tuning¶
Triggering lift¶
SOAR_VSPEED controls when the mode will be changed to LOITER to begin thermalling. The default of 0.7m/s may be too low if you fly in strong conditions. Increasing this value makes the aircraft more "picky" about the lift it will try to circle in.
Drag Polar¶
While the default settings for SOAR_POLAR_B and SOAR_POLAR_CD0 should be OK for most foamie-style glider aircraft, improving the accuracy of these parameters will improve how your aircraft detects and centres lift. You can use this spreadsheet to calculate better values from glide tests.
Time hysteresis¶
Adding hysteresis can reduce the frequency of mode changes.
SOAR_MIN_THML_S: Minimum time to remain in LOITER once entered for a thermal before exiting due to low lift or altitude limits.
SOAR_MIN_CRSE_S: Minimum time to remain in glide after exiting LOITER due to low lift or altitude limits before entering LOITER mode again, or when entering Soaring initially.
TECS Tuning¶
For best results the TECS needs to be set up to fly the aircraft at a consistent airspeed when gliding.
If your aircraft has trouble maintaining airspeed accurately you can tune it by confirming that TECS_SPDWEIGHT is set to 2.0, SOAR_ENABLE to 1 and set SOAR_VSPEED to a large number, say 50.0, or use the RC switch to inhibit mode changes. This means that the aircraft will glide but will never begin thermalling. Set SOAR_ALT_CUTOFF to an altitude high enough to allow a good length of time to be spent gliding.
Launch the aircraft and put it in AUTO mode. It should climb to SOAR_ALT_CUTOFF and then begin a gliding descent. Watch the telemetry graphs or look at the Dataflash logs after the flight. Is the aircraft maintaining the demanded airspeed? The actual and demanded airspeed can be seen in the onboard log as TECS.sp and TECS.spdem, and via telemetry you can use NAV_CONTROLLER_OUTPUT.aspd_error. Problems can usually be fixed by increasing PTCH2SRV_IMAX and TECS_INTEG_GAIN to achieve good airspeed tracking in gliding flight.
Notes¶
MAVLINK Telemetry¶
Currently, the only effect on telemetry is that when soaring is active the climb rate item (VFR_HUD.climb) is altered. Rather that the estimated vertical speed of the aircraft, the estimated vertical speed of the air mass is sent. This field is used by Mission Planner and OpenTX radios to produce vario audio output.
Use of TECS synthetic airspeed¶
If your plane can't accommodate an airspeed sensor, it is possible to use the TECS synthetic airspeed estimate TECS_SYNAIRSPEED. Make sure you read the warning regarding this feature before deciding to use it. To use this feature, set the parameter TECS_SYNAIRSPEED to 1.