Soaring¶
The autonomous soaring functionality in ArduPilot allows the plane to respond to rising air current (thermals) in order to extend endurance and gain altitude with minimal use of the motor (soaring). Its full technical description is available in
S. Tabor, I. Guilliard, A. Kolobov. ArduSoar: an Open-Source Thermalling Controller for Resource-Constrained Autopilots. International Conference on Intelligent Robots and Systems (IROS), 2018.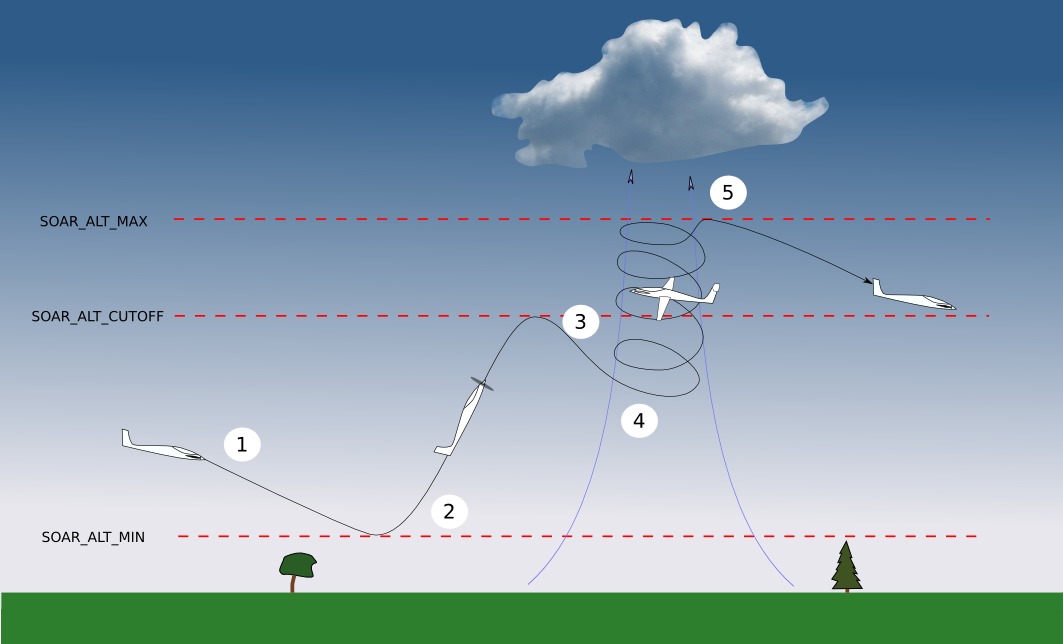 This picture shows the different phases of flight when using the soaring functionality:
When modes AUTO, FBWB or CRUISE are entered, throttle is set to zero provided the aircraft is above SOAR_ALT_MIN altitude. The aircraft begins gliding.

If the aircraft reaches SOAR_ALT_MIN altitude, throttle is re-enabled and the aircraft will begin to climb to the altitude of the next waypoint.

When the aircraft reaches SOAR_ALT_CUTOFF altitude, throttle is set to zero again.

If, during gliding flight, the air is estimated to be rising at more than SOAR_VSPEED the aircraft will enter LOITER mode. It will adjust the loiter position to better centre the thermal.

LOITER mode is exited under the following conditions:

SOAR_ALT_MAX is reached.
SOAR_ALT_MIN is reached.
Flight mode is manually changed.
The estimate of achievable climb rate falls below SOAR_VSPEED, and thermalling has lasted at least SOAR_MIN_THML_S seconds.

The flight mode will be returned to whatever it was before LOITER was triggered, with the following exception. If the previous mode was FBWB or CRUISE, and thermalling ended due to reaching SOAR_ALT_MIN, RTL will be triggered instead.