Arming Plane¶
Before you can fly your plane you need to arm it. Arming the aircraft before flight has two purposes:
prevent the motor from turning when the pilot is not ready to fly (a safety feature)
prevent takeoff before the autopilot is fully configured and ready to fly
The key thing that arming does is to enable the motor. You will not be able to start the motor (ie. control the throttle) until the aircraft is armed.
Note: If you have AHRS_EKF_TYPE set to 2 or 3 (you are using one of the EKFs) then it is particularly important that you have arming checks enabled for INS. Flying EKF without arming checks may cause a crash.
Warning
This feature in no way removes the need to respect the prop! When the plane is powered, ALWAYS avoid placing hands in the vicinity of the propellor, even when the throttle is disarmed. If all is not well with the autopilot electronics or software there is always a slight possibility that signal could unintentionally reach the motor. Even though this is unlikely (and made even less likely by safety features such as this) it only takes one time to chew up a finger or hand!
Configuring Arming¶
There are three parameters which control how arming works:
ARMING_REQUIRE

: this controls whether an arming step is required. The default is 1, meaning that arming is required before takeoff. If set to 0 then arming is not required (the plane starts off armed).

ARMING_CHECK

: this controls what checks the autopilot does before arming is allowed. The default is 1, meaning all checks are done. Most users should leave it at 1, as the arming checks are important to ensure the autopilot is ready. See below.

ARMING_RUDDER

: This parameter allows you to configure rudder based arming/disarming. The default is 1, meaning you are able to arm with right rudder. If you set this to 2 you can also disarm with left rudder. If you set this to 0 then you will only be able to arm/disarm via a ground station or RC channel input using its RCx_OPTION.
Warning
if ARMING_RUDDER is set to 2, then held left rudder can disarm the vehicle in ANY mode, if the autopilot judges that the vehicle is not flying. This flying check CAN be incorrect under certain extreme circumstances, and disarming of the vehicle while still in flight, while rare, could occur.
Arming Checks¶
Before allowing arming the autopilot checks a set of conditions. All conditions must pass for arming to be allowed. If any condition fails then a message explaining what failed is set to the GCS. Any or all of the Pre-Arming Checks can be disabled, but it is not recommended. See the Pre-Arm Safety Checks topic for more information.
IMPORTANT: RC Transmitter Calibration¶
It is essential that your RC radio transmitter be calibrated correctly before continuing. Please see the Calibrate your RC input wiki page if you don't know how to calibrate your radio.
When calibrating your RC input you should also be careful to set the minimum value of the throttle (usually RC3_MIN) to the minimum value when in normal flight control. Don't set it to the value used by your transmitter when in throttle failsafe or you won't be able to arm using the rudder as the autopilot will think you are at a non-zero throttle level.
How to Arm¶
When you are ready to fly you can ask Plane to arm. This can be done in three ways:
Rudder Arming. Hold the rudder stick fully to the right and the throttle stick fully down for 2 seconds.
Arming Switch. An RC channel can be configured as an ARM/DISARM switch by using the RCx_OPTION for that channel set to 41.
GCS Arming. Press the arming button on your ground station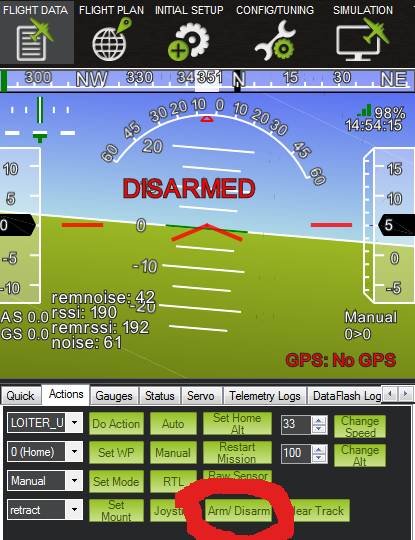 How to Disarm¶
If setup, you can use the ARM/DISARM RC_xOPTION switch.
Warning
This is UNCONDITIONAL. If done while in flight, all motors disarm and you must have throttle at idle before re-arming can occur!
It is also possible to disarm using the transmitter. This is done holding throttle at minimum and rudder to the left for 2 seconds. In ArduPlane this condition could be accidentally triggered by pilots while flying so there are additional requirements prior to disarm:
You need to allow rudder disarming by changing ARMING_RUDDER parameter to 2 (ArmOrDisarm) or use the ARM/DISARM switch function provided by setting an RC channel's RCx_OPTION to 41.
The autopilot needs to make sure that you are not actually flying. There is an algorithm for this that uses the airspeed sensor readings. So you need this source available and giving values lower enough (in a windy day you might not be able to disarm even landed if the plane thinks you are still flying)
You can also disarm without using the transmitter with one of the following methods:
use a ground station to issue a disarm command
use the safety switch on your aircraft (if using a

Safety Switch

)
after an auto-landing (either via mission or QLAND in QuadPlane) the plane will automatically disarm after 20 seconds if still on the ground (controlled by

LAND_DISARMDELAY

parameter)
Visual and Audible signals¶
ArduPlane will provide visual and audio clues to the arming state if your autopilot has notification LEDs and a buzzer. The clues are:
if the autopilot is disarmed, but is ready to arm then the large 3-colour LED will be flashing green
if the autopilot is armed and ready to fly the large 3-colour LED is solid green
when the autopilot is ready to arm it will play a "ready to arm" sound on the buzzer
when the autopilot is armed or disarmed it will play the corresponding sound
See the sounds page to listen to what the buzzer sounds like for each state.
Throttle output when disarmed¶
When the plane is disarmed the throttle channel will not respond to pilot input. There are two possible behaviors you can configure:
ARMING_REQUIRE

= 1. When disarmed the minimum value for the throttle channel (normally RC3_MIN) will be sent to the throttle channel

ARMING_REQUIRE

= 2. When disarmed no pulses are sent to the throttle channel. Note that some ESCs will beep to complain that they are powered on without a control signal or even refuse to initialize and operate.
Diagnosing failure to arm¶
It can be frustrating if your plane refuses to arm. To diagnose arming issues follow this guide