Tricopter Configuration¶
This page outlines the special settings required to get a TriCopter flying. The more general instructions for setting up a multicopter should be used for all other aspects of the setup.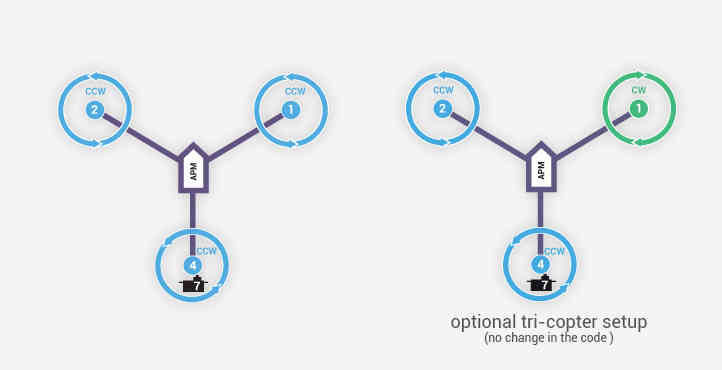 After loading the firmware please set:
Better separation of RC input and output parameters has also lead to some changes compared to earlier versions. Here is a full list of tricopter specific parameters:
The RC output channel used for the tail servo can be changed from its default (channel 7) by setting the appropriate SERVOX_FUNCTION to 39. For example the Pixracer only has 6 output channels so the tail servo can be moved to output channel 5 by setting SERVO5_FUNCTION to 39. Note that if the output channel is changed, the SERVOx_MIN, SERVOx_MAX, SERVOx_TRIM and SERVOx_REVERSED must be set appropriately for the new output channel.