DROTAG x for Geotagging¶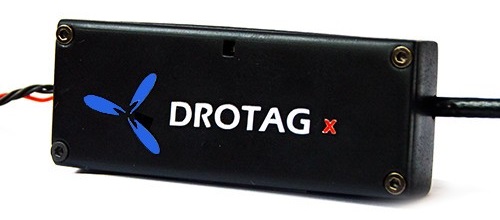 DROTAGx enables non drone experts to get professional survey level results with it's easy to use and included accessories:
Photo tagging directly on the camera card itself
Have a plain text log file with geographical data in the camera card itself. Includes Yaw, Roll, and Pitch of the Drone
1 Picture every 1.6 seconds
Guaranteed correct tagging even if the camera misses several pictures in a row!
Hotshoe for camera flash feedback included for cameras with external flash. With the hotshoe installed take pictures as fast as your camera allows for, and microsecond accurate shutter lag
Also tags RAW photos
Customer support
More details can be found in the DROTAGx manual (airborneprojects.com) including pre-flight checklists, detailed explanations for diagnosis and other tips.
Warning
ArduPilot development team members report mixed results with this product. Some report it worked easily, others were unable to get it to work.
Acknowledgements¶
This page was originally created by Sandro Benigno and Guto Santaella and updated by Jesus Alvarez.