Vibration Damping¶
Flight Control boards have accelerometers that are sensitive to vibrations. These accelerometer values are combined with barometer and GPS data to estimate the vehicle's position. With excessive vibrations, the estimate can be thrown off and lead to very bad performance in modes that rely on accurate positioning (e.g. on Copter: AltHold, Loiter, RTL, Guided, Position and Auto flight modes).
Please refer to the Measuring Vibration page for details of how to measure your vehicle's vibration levels and confirm they are within the acceptable range
The goal of vibration damping is to reduce high and medium frequency vibrations while still allowing low frequency actual board movement to take place in concert with the airframe.
Double sided foam tape or Velcro has traditionally been used to attach the flight controller to the frame. In many cases foam tape or Velcro does not provide adequate vibration isolation because the mass of the flight control board is so small.
Note
The examples and images in this article refer to Copter, but the information is also largely applicable to Plane and Rover.
3M, Du-Bro or HobbyKing Foam¶
One of the following three types of foam should be cut into small 1cm ~ 2cm cubes and attached to each of the four corners of the flight controller as described on the Mounting the Flight Controller wiki page:
For the last two options "carpet fixing tape" will be required to attach the foam to the flight controller and vehicle frame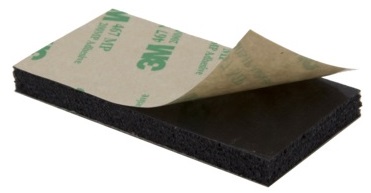 For vehicles with internal combustion engines, the flight controller should be mounted on an intermediate plate with self adhesive lead weights added to increase its mass
3D Printed Anti-Vibration Platform¶
GuyMcCaldin's 3D Printed vibration mount (available from Shapeways and Thingiverse) using these Hobbyking dampers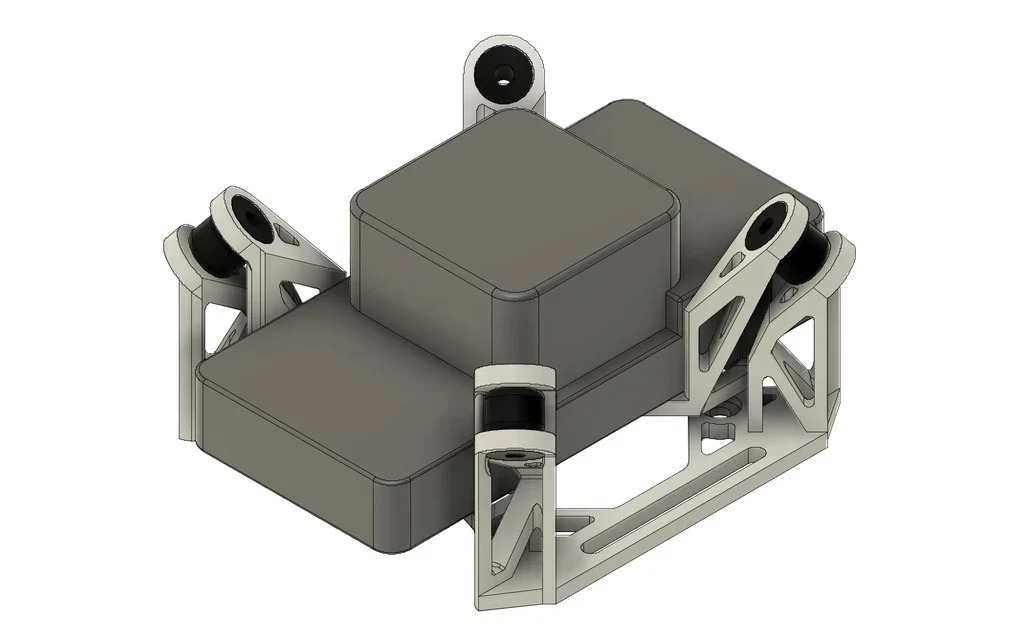 The mount can be installed using double sided tape, or M3 screws spaced at 45mm x 45mm.
O-ring Suspension Mount¶
Create a platform upon which to mount your flight control board with holes or screws on the four corners. Mount your flight controller on this board with double sided foam tape.
Mount 4 standoffs on the top of your frame spaced 1/10" to 1/8" further apart than the width of the platform upon which the control board has been mounted.
Insert 1/16" nylon O-rings through each corner of the flight control board and the standoffs so that the flight controller has no hard connections to the frame. Link (Here!)

The overall O-ring diameter should be chosen to firmly retain the board while providing for light to moderate initial but rapidly snubbed movement of the board (generally 1/2" to 3/4" OD) and Silicone O-rings should generally damp better than Buna-N O-rings (Sizes 15 - 21) if you can acquire them.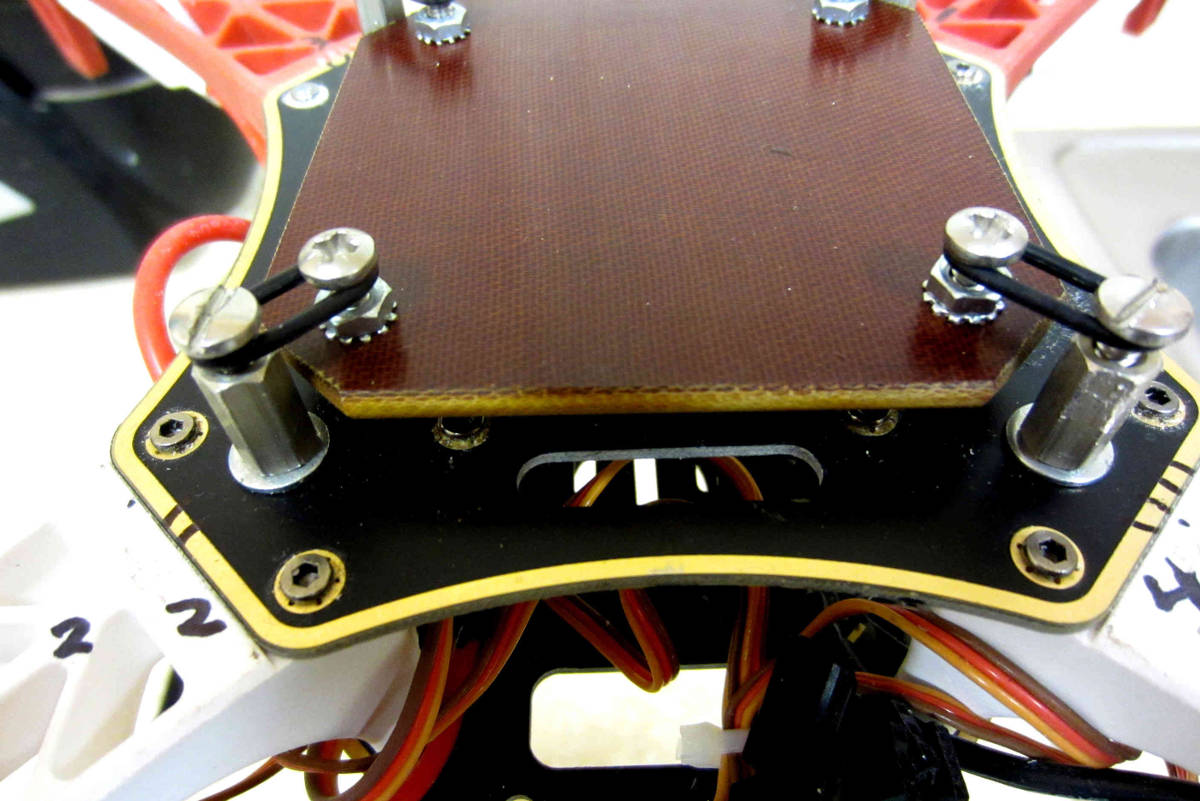 Vibrations are short coupled, so all that leaving excess corner clearance does is to require higher initial O-ring tension which reduces vibration damping responsiveness and allows the board to physically tilt more (which is undesirable as it throws the sensor to airframe relationship off).
The disadvantage to O-ring suspension versus Gel pads is that it is mechanically more complex and it requires tuning of both of O-ring diameter and cross section.
You can combine O-ring and gel pad design by using an intermediate plate and benefit from dual rate damping.
Ear Plug Mount¶
Purchase slow response silicon or urethane foam or PVC foam earplugs such as these from 3M
Create a platform upon which to mount your flight control board with holes at the four corners. The holes should be large enough to allow the ear plugs to be inserted into them but not so loose that the board comes loose during hard landings. Ensure the holes are smooth so they do not cut into the ear plugs. Also keep the holes near the corners of your electronic module plate as possible to minimize unnecessary module movement.
Mount your flight controller on this board with double sided foam tape. Extra mass added to the board may improve vibration damping.
Squeeze the earplugs through existing holes in the frame (or cut new holes) and the holes in the board upon which the flight controller is mounted. "Tuning" is possible by varying the amount of earplug left exposed in the middle.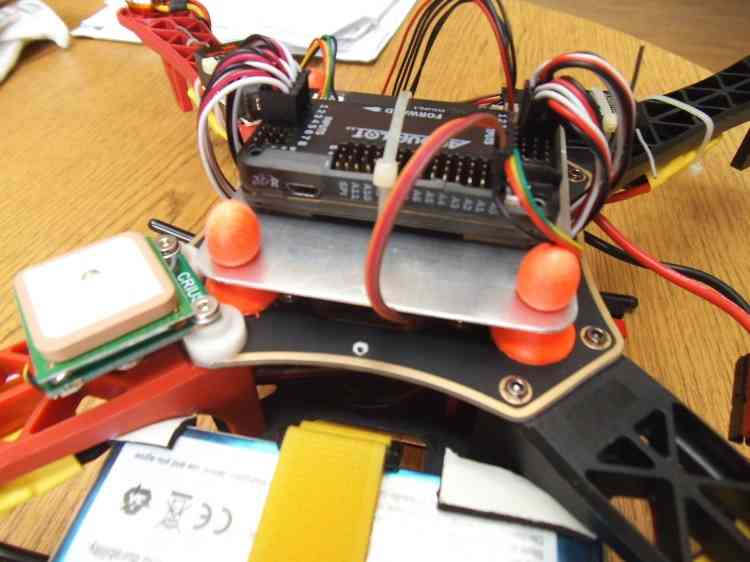 Bulb Damper + Ear Plug Vibration Mount¶
Mounting plate with a 100g soft rubber bulb type "gimbal" damper at each corner and a half a urethane foam earplug placed inside each one.

Gimbal bulb type dampers themselves can work in tension or compression.

The earplugs provide an additional damping medium with a different frequency damping range than the bulb dampers by themselves.

The ear plugs also stiffen the bulb mounts up a bit preventing excessive free motion being caused by normal flight maneuvers.

This was successful at damping a Flamewheel clone with flexible arms and over size 12" propellers into the .05 G range.

The flight controller is also mounted on anti-vibration grommets available from McMaster Carr (package of 25 each part #9311K64 recommended).

The 100G bulb type gimbal vibration dampers can be ordered direct from a variety of vendors: copter-rc.com