Omnibus F4 Nano V6 (must be V6)¶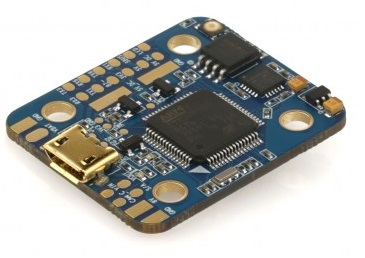 Above image and some content courtesy of myairbot.com
Note
Support for this board is available with Copter-3.6.0 (and higher)
Specifications¶
Processor
Sensors

InvenSense MPU6000 IMU (accel, gyro)
BMP280 barometer
Voltage sensor

Interfaces

2 UARTS
4 PWM outputs
RC input PWM/PPM, SBUS
I2C port for external compass
USB port
Built-in OSD
There is no logging support, so disable in parameters
Default UART order¶
SERIAL0 = console = USB
SERIAL1 = Telemetry1 = USART1
SERIAL2 = Telemetry2 = USART4
SERIAL3 = GPS1 = USART6
SERIAL4 = not assigned
SERIAL5 = not assigned
SERIAL6 = not assigned
Serial protocols can be adjusted to personal preferences.
Dshot capability¶
All motor/servo outputs are Dshot and PWM capable. However, mixing Dshot and normal PWM operation for outputs is restricted into groups, ie. enabling Dshot for an output in a group requires that ALL outputs in that group be configured and used as Dshot, rather than PWM outputs. The output group that must be the same (PWM or Dshot, when configured as a normal servo/motor output) is: 1/2.
Versions¶
There have been many versions of this board and many clones. This for Version 6 only
Board Connections¶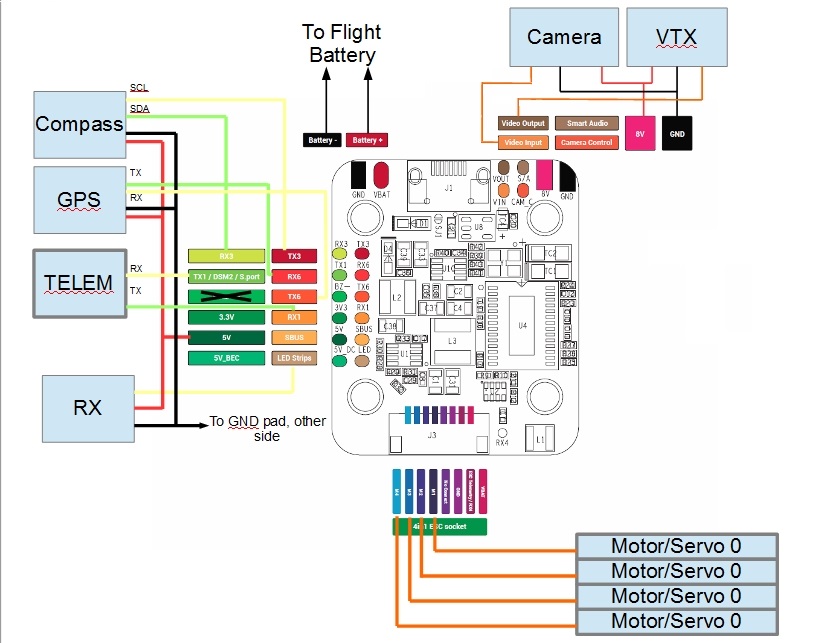 Typical Arduplane system
GPS is attached to UART6
Telem is available at UART 1
The shared UART3/I2C pins are enabled only for I2C operation to allow external compass or digital airspeed sensor attachment.
RC input is via pad marked LED on the board and is compatible all RX serial protocols supported by Ardupilot. The Buzzer output pad has no functionality.
Flashing Firmware¶
Usually these boards are sold pre-flashed with betaflight / INav firwares and require both firmware and bootloader to be updated if you want to use ArduPilot, as an ArduPilot-compatible bootloader is required for subsequent ArduPilot firmware-upgrade handling.
Firmware files can be found here Besides the .apj files for firmware flashing via MissionPlanner, there's also .hex files for use with various utilities like dfu-util or betaflight / iNav GUIs. You will also find a _bl.hex that contains the firmware plus the ArduPilot compatible bootloader in case it is not already present on your board.
The provided _with_bl.hex file can be flashed using BF or iNav GUI, likely the most convenient way to get ArduPilot on your board the first time.
Alternatively, the bootloader can be flashed separately. This requires the board to be put into DFU mode. Tools like dfu-util can be used to flash the bootlader. Once the bootlader is present, all subsequent firmware updates can be done using MissionPlanner's firmware functions.